We understand ourselves to be imperfect people who are rescued by a perfect Savior. Our righteousness is not found in ourselves—but only in Jesus Christ, by faith. Because of that, the members of CBC "come as we are" every Sunday. We encourage you to do the same.
What we do on a Sunday morning:
9:00am-9:30am – Prayer meeting.
9:30am-10:00am – Coffee and conversation
10:00am – Service starts.
What we do in our services:
We sing a handful of songs—old and new, of various styles.
We pray a couple of corporate prayers.
We read Scripture.
We listen to God's word preached.
We partake of the Lord's Supper.
Childcare:
Children 3 years old and younger.
Offered on the first three Sundays of each month.
All nursery volunteers are background checked and have been members of CBC for six months or longer.
Meeting Location
We are currently meeting in the chapel of Arden Presbyterian Church. The address is:
2215 Hendersonville Rd
Arden, NC 28704
Please reference the map of the church campus below. It includes the where to enter, where to park, and where we meet.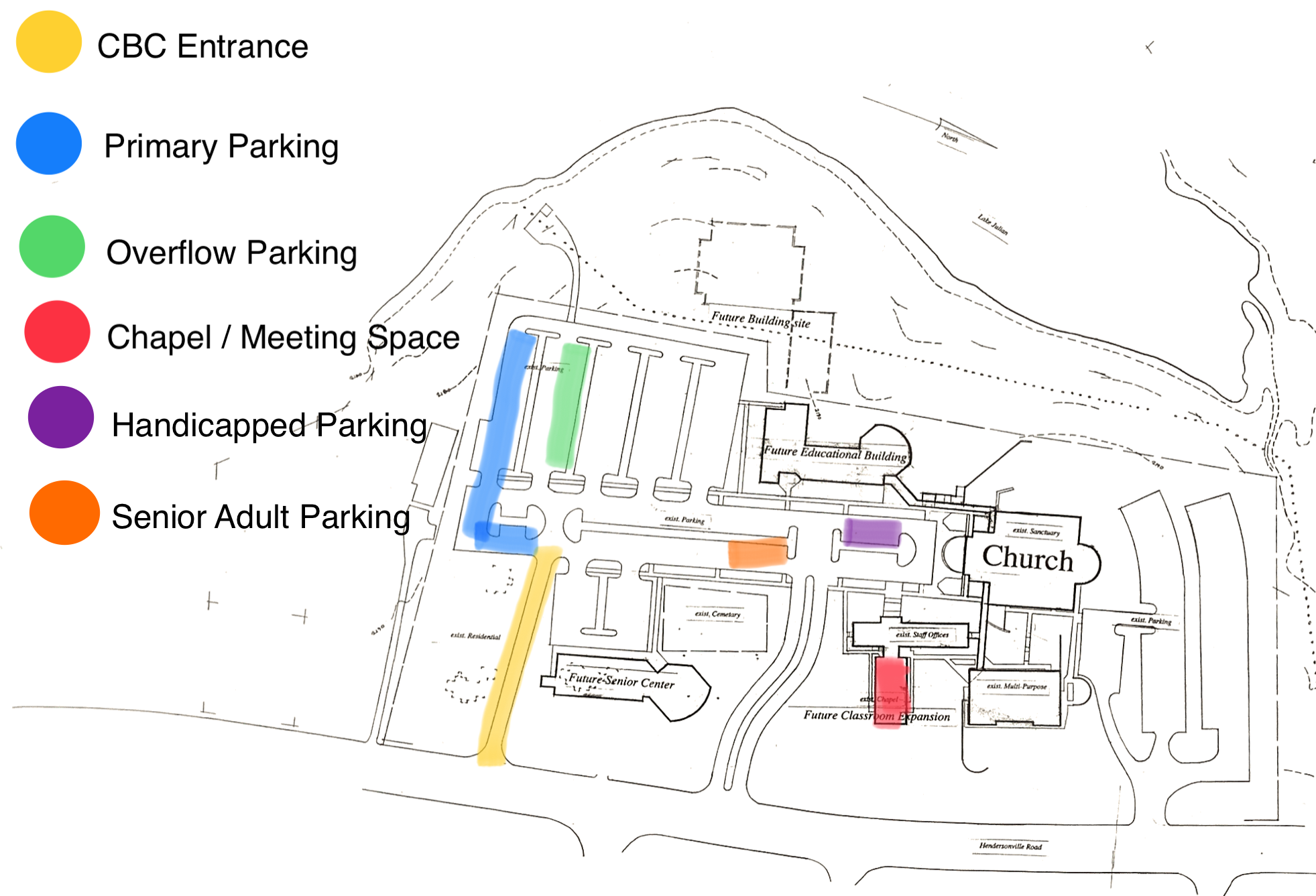 1
CBC Main Entrance:
This entrance will be clearly marked by Covenant flags. This entrance and exit is the main one we are to use in order to serve our neighbor church, Arden Presbyterian, well.
2
Primary parking spaces.
Please fill these parking spaces up before you begin parking in our overflow spaces.
3
Overflow Parking
Please park here after our primary parking spaces are all taken.
4
Chapel / Meeting Space
We will be gathering in this building for our worship services. We will have the entrance clearly marked with signs. There will also be people to greet you when you arrive, and a hospitality team in the entry way to provide you with coffee and other refreshments, as well as help you find your way around–if you want that.